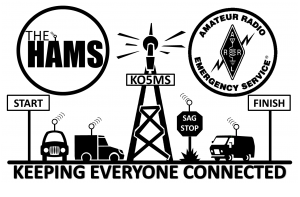 BP MS150 Hams is the Communications Team that supports the annual BP MS150 Bike Tour of the Lone Star Chapter of the National MS Society. The event is the largest fundraising bike tour of the MS Society and Communications, more specifically Ham Radio and other Radio Services, are a significant resource in supporting operations and information flow on the ride weekend. Annually over 150+ Ham Radio Operators contribute their time and equipment for this event in wide-ranging capacities and time commitments.
When
2018 BP MS150 – April 28-29 (Tentative Date)
I Am Interested In Volunteering
Details on the 2018 sign-up process have not been finalized at this time. Typically though, by October 2017 or sooner we will have updated information.
To stay updated on 2018 – Join the General Info Mailing List for now.
Volunteering for the event to support communications comes in many flavors, please see the Assignment Types page for more detailed information. Some volunteer positions related to communications are managed by other teams (i.e. SAGS, CERT, Box SAG, Motorcycle Marshal). It will be necessary to interface directly for those teams to secure volunteer positions with them. This information will be made available once the 2018 sign-up process has been finalized.